Free school meals, healthy start and access to food
Families who are on benefits or a low income may be eligible for free school meals and healthy start vouchers for their children. The information on this page is applicable to Leeds schools and may vary slightly for different local authorities. Please visit https://www.gov.uk/apply-free-school-meals to find your local authority's website.
You can order a copy of our free school meals toolkit by emailing schoolwellbeing@leeds.gov.uk or visit https://www.leedsforlearning.co.uk/Store/Product/29. The toolkit contains everything you need to know about free school meals and lots of resources such as posters, leaflets, surveys and much more!
What is a free school meal?
A free school meal should provide pupils with a balanced lunch consisting of:

A main meal, drink and a pudding/snack.

This might include a meat based hot meal, a meat or meat-free hot meal and a sandwich option, or similar.
The meal must be fully compliant with the 2015 School Food Standards. https://www.gov.uk/government/publications/standards-for-school-food-in-england
Milk should be free of charge for those eligible for free school meals.
The free school meals eligibility criteria
Children may be eligible for free school meals if their parents or carers receive any of the following benefits:
income support;
income based Job Seeker's Allowance;
income based Employment and Support Allowance;
Child Tax Credit with an annual income of less than £16,190;
the guaranteed element of the State Pension Credit;
the guaranteed element of Pension Credit;
support under Part VI of the Immigration and Asylum Act 1999;
or Universal Credit with an annual income of less than £7,400.
Who can get their school meal for free?

Nursery children
If your child attends full days at a nursery, for the morning and afternoon session, they may be eligible for free school meals.

Children in Reception, Year 1 and Year 1
All children in Reception, Year 1 or Year 2 at a state funded school or academy, will automatically get free school meals through the Universal Infant Free School Meals scheme.
If you receive benefits or universal credit and your child already gets Universal Infant Free School Meals, you should still apply for free school meals. This is so your school can claim funding to support your child at school.
Children in Year 3 or above
Pupils in these year groups are only eligible for free school meals if their parents or carers are entitled to benefits, and they make a successful application for free school meals.
Sixth form and college students
Students in Year 10 and 11 who attend a non-fee paying school fulltime can also receive free school meals. This definition includes Academies, Free Schools, students enrolled in a Sixth Form attached to a mainstream school, those attending Pupil Referral Units, Specialist Inclusive Learning Centres, those aged 14 to 16 enrolled at Colleges on a variety of pre-A level courses (these include cohorts of recent UK arrivals undertaking intensive English language tuition and others signed up for non-Academic vocational Apprenticeships).
How to apply
If you live in Leeds and you do not already receive Housing Benefit or Council Tax Support, you will need to complete our online form.
If you think your child could be eligible for free school meals, complete and return the free school meals claim form (Word 0.3MB) to:
Welfare and Benefits (Free School Meal Claims)
Leeds City Council
Selectapost 15
Leeds
LS2 8BA

Healthy Start
Please click here to apply and find out more
With Healthy Start, you get free vouchers every week to spend on milk, fresh and frozen, tinned (in juice/ water) fruit and vegetables, fresh, dried and tinned pulses, including but not limited to lentils, beans, peas and chickpeas but not those to which fat, salt, sugar or flavouring have been added' and infant formula milk. You can also get free vitamins.
Pregnant women get one Healthy Start voucher a week worth £3.10.
Babies under the age of one get two vouchers a week worth a total of £6.20.
Children aged over one and under four get one voucher a week worth £3.10.
The eligibility for Healthy Start is the same as for free school meals (shown above).
You also qualify if you are under 18 and pregnant, even if you don't get benefits. Ask your midwife, health visitor or GP for the application form or go on line at https://www.healthystart.nhs.uk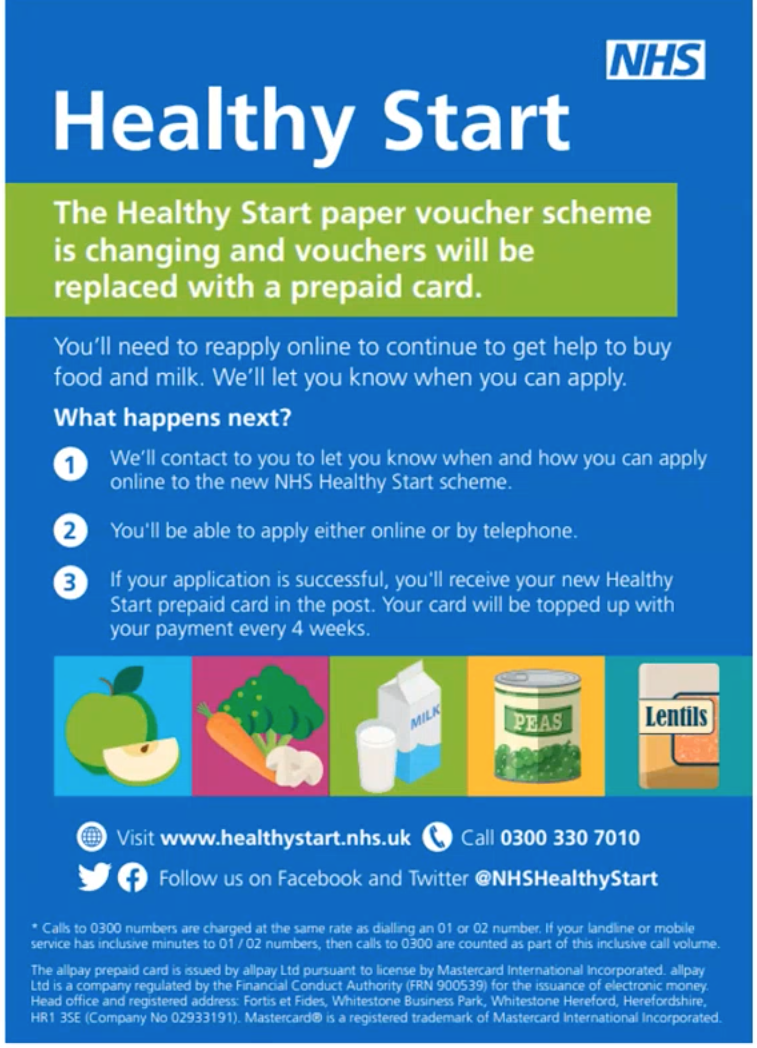 Food Banks
If you are in need of emergency food, local food banks can offer immediate support. Your local food bank can support you to find your nearest referral agency, who will provide guidance on how to claim for a food bank voucher which can be exchanged for an emergency food parcel. Providing you and your family with a minimum of 3 days' supply of nutritionally balanced food.
Please visit https://www.leedsfoodaidnetwork.co.uk/food-banks/ for more information and to find your nearest food bank.
You can click here to download our family food leaflet which you can print or display on your school website to share with families and promote access to food.