The Free School Meals Toolkit
The Health and Wellbeing Service (HWS), along with other key services at Leeds City Council, have developed a new Free School Meal Toolkit that provides a comprehensive and detailed guide to Free School Meals.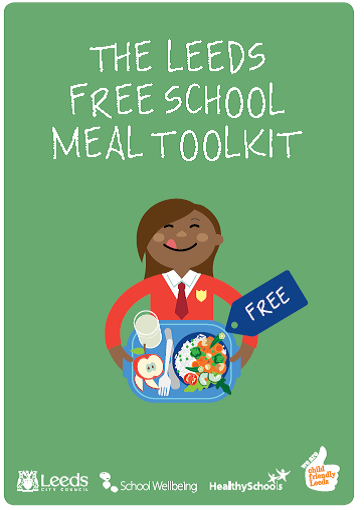 This toolkit includes essential and up to date information on Universal Credit, pupil premium, eligibility, how to claim, FSM for nursery & sixth form/college pupils, milk, the FSM supplementary grant, school trips and a step-by-step guide to maximising take up.
The toolkit also provides 36 practical resources to support your school such as posters, letter templates, a staff training session, pupil and parent consultation forms, text message templates, leaflets and more. This resource aims to remove hunger as a barrier to learning by helping more children and young people access a balanced meal while in education.
NB. This resource contains information and contact details that are only applicable to schools in the Leeds area. Whilst a significant proportion of the content and tools are applicable to all schools and settings in England, users should check all information before sharing with pupils, parents or carers and update with your own local information. This has been reflected in the cost of this resource.
Theme: Healthy Eating
Type: Campaign
Cohort: Early Years, KS1, KS2, KS3, KS4, KS5, Primary, Secondary
Audience: Teachers, Parents, Governors
Price: £99.00
Download Document Preview
View All