Wellbeing data has and will continue to be collected and analysed to improve outcomes for children and young people. Schools and educational settings have for some time become skilled practitioners in collecting, analysing and interpreting school data on attainment and attendance. It is now time to extend this same expertise and explore the health and wellbeing data of children and young people, a relatively new subject for educational settings. This valuable data can provide a wonderful insight into the true story behind an issue, helping to contextualise the real needs of children and young people in a community/school setting. By fully understanding more about children and young people's lives we can: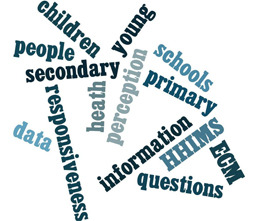 understand the choices affecting their health and wellbeing
identify solutions to issues affecting their health and wellbeing
make better decisions to provide improved interventions
commission and shape services to make them more sensitive to their needs
influence improved health and wellbeing outcomes
affect pupil's health and wellbeing choices
Our intention is to provide access to a wide range of health and wellbeing data sources available nationally, regionally and locally. We will also equip you with the tools to enable you to gather school level data. Resources in this section will continue to grow and be led by schools so watch this space!
Surveys that give reliable data are notoriously difficult to devise: we have long experience of survey design/ testing in liaison with Leeds universities and all our surveys are developed by a collaborative cross-service team of specialists and professionals.
Links:
My Health, My School Survey - LIVE 2016
This Health Behaviour Survey is quick and easy to complete and aims to give pupils/students the opportunity to share their views, knowledge and experiences around a number of different healthy topics including healthy eating, physical activity, smoking, bullying and personal safety. It will also ask questions about their school and about Leeds as a city.
The survey continues to support schools with their Ofsted framework and this year incudes questions regarding 'British Values', 'Self-harm' and 'Radicalisation/Extremism'. These questions offer additional support for the new judgement on 'Personal development, behaviour and welfare' and 'Safeguarding'.
The survey is now live for all pupils to complete the survey and continues to be FREE to all schools and academies in Leeds.
The survey is completed online, by pupils in years 5, 6, 7, 9 and 11 and this year there is also a Catholic version allowing all schools across the city to get involved. We request that schools plan ahead and engage with their pupils to obtain this vital child health data. Most schools choose to do the survey during the summer term with the exception of year 11 who complete it in the spring term.
Implementing the survey involves three easy to follow one hour lessons: a preparatory lesson, a lesson using individual computers under exam conditions, and a plenary lesson. It is advised that for validity and reliability, the survey be completed at the same time each year. Click here to view school case study.
Leeds now has 8 years of trend data from the questions in the MHMS Survey. Click here to view the headlines from this data. Feedback from schools tells us that new software has allowed high functioning user experience, both for pupils and staff. We would also encourage schools to share relevant data with their school council to spark creative pupil-led action.
To register to complete the survey please Click here.
Statistics on Alcohol: England, 2012 (May 31, 2012)
This statistical report acts as a reference point for health issues relating to alcohol use and misuse, providing information obtained from a number of sources in a user-friendly format. It covers topics such as drinking habits and behaviours among adults (aged 16 and over) and school children (aged 11 to 15), drinking-related ill health and mortality, affordability of alcohol, alcohol related admissions to hospital and alcohol-related costs. The report contains previously published information and also includes additional new analyses.
The report also includes up to date information on the latest alcohol related government policies and targets and contains links to further sources of useful information.
Key facts
13 per cent of secondary school pupils aged 11 to 15 reported drinking alcohol in the week prior to interview in 2010 compared with 18 per cent of pupils in 2009 and 26 per cent in 2001.
There has been a fall in recent years in the proportion of pupils who think that drinking is acceptable for someone of their age. In 2010 32 per cent thought it was okay for someone of their age to drink once a week compared to 46 per cent in 2003. Similarly 11 per cent of pupils thought that it was OK for someone of their age to get drunk once a week compared to 20 per cent who thought that in 2003.
http://www.ic.nhs.uk/statistics-and-data-collections/health-and-lifestyles/alcohol/statistics-on-alcohol-england-2012-%5Bns%5D
CHIMAT Child and Maternal Health Observatory. A valuable website showing child health data, especially the Child health profiles and the Healthy Schools Profiles.
http://www.chimat.org.uk/resource/view.aspx?QN=CHMT4
APHO Association of Public Health Observatories. A valuable website showing health data, especially the health profiles.
http://www.apho.org.uk/default.aspx?QN=P_HEALTH_PROFILES
London Health Observatory A valuable website showing Tobacco Control Profiles along with other links to drugs data.
http://www.lho.org.uk/LHO_TOPICS/ANALYTIC_TOOLS/TOBACCOCONTROLPROFILES/