Healthy Eating Case Studies
Do you have a story to tell to inspire others?
Share your good practice of food and healthy eating in schools here!
Please click here to download a case study form and submit your form to schoolwellbeing@leeds.gov.uk
Ideas of things you could tell us about could include...
Changes you have made to your lunchtimes, how you have increased you school meal take up, introducing a packed lunch policy, school food ambassadors, involving pupils with promoting healthy eating, cooking .... or anything new or exciting!
Case studies .....
St. Jospeh's Primary School Packed Lunches Surveys
St. Jospeh's have been working together with local schools in their cluster to develop a new packed lunch policy. To make sure that their policy meets the needs of the children and their families, they have conducted surveys of all their lunch boxes and also carried out parent consulation. To view their findings click here.
They used the parent packed lunch survey and audit tool which are also available to download.
Their next step will be to put their policy in to place to support children and families to eat healthier packed lunches!
Farnley Park High - Took part in National School Meals Week and Take Over Day!
Year 10 and 11 GCSE food groups took the opportunity to help serve in the canteen and asked questions to other students on the food service. It gave the school a chance to see what students liked or want improving before moving to the new build in January. In total 136 students were interviewed over the week. The school made use of resources from the NSMW website and posters from Change4life.


Lunchtimes for Pupils at Harehills Primary School
Harehills Primary School have completely changed their lunchtimes. They now have a family service and pupils have roles and responsibilities. The whole school has been on board to support the changes and their School Food Ambassadors have played a key role. A two part film is being been made to capture the dramatic changes and inspire other schools.
You can view part one by clicking the image below.
Little London - Universal Free Infant School Meals
Seven Hills Diner's Club
Find out about how Seven Hills Primary School teach children about cooking, healthy eating and the social aspects of meal times through their innovative diner's club.
Please click on the image below to view their short film.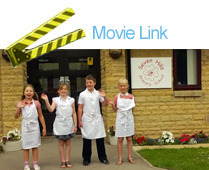 Methley Primary School - Family Service

In 2010 Methley Primary School began to change their lunchtimes to a family service. Lunchtimes are now a calm, sociable and welcoming experience for the children. To read all about their journey click here to download their case study in full!
Temple Moor High School - School Food Ambassadors take the lead for the E - Whole School Food Survey
Temple Moor will be completing the new E-whole school food survey with the entire school to find out what their pupils think of the food and lunchtimes. They plan to re-deign and improve their dining experience and will use the findings of the

food survey to help plan what will be changed.
Their school food ambassadors will be taking the lead for decision making when looking at the results of their survey. Temple Moor have played a key role in supporting the development of this new resource that will be rolled out to schools across Leeds.
Cottingley Primary - Elect their new school food ambassadors
In February 2011 Cottingley Primary School attended the school food ambassadors training event. Since then, they have elect two ambassadors and two deputy ambassadors to take the lead for food in school. Pupils completed job application forms to secure their roles as the school's ambassadors.

They will meet with their school catering this term and begin to monitor their menus in the new year. The ambassadors pictures are clearly displayed in the pride of place near the school's main reception.