The Challenge
Children are spending less time moving and more time sitting! Its time to develop childrens physical literacy to turn the tide of inactivity and ensure that children learn and use the tools to grow into healthy, active, resilient individuals.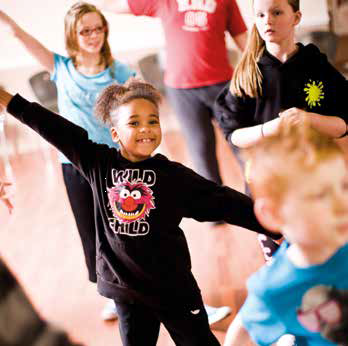 Picture from British Heart Foundation National Centre for Physical Activity guidelines
Physical activity guidelines:
All children and young people should engage in moderate to vigorous intensity physical activity for at least 60 minutes and up to several hours every day.
Vigorous intensity activities, including those that strengthen muscle and bone, should be incorporated at least three days a week.
All children and young people should minimise the amount of time spent being sedentary (sitting) for extended periods.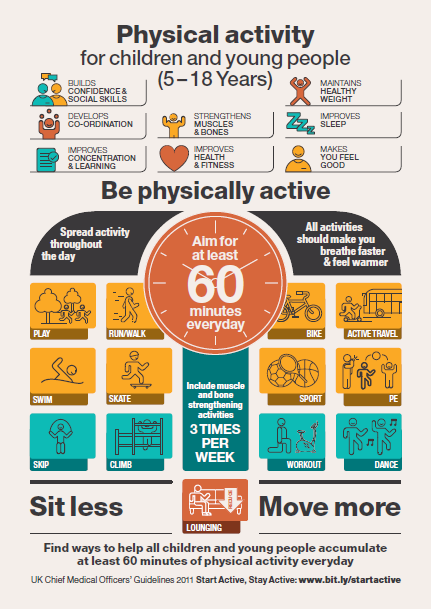 Brain Breaks
Lots of research can be found that clearly shows that brain breaks increase academic achievement, help with concentration, boost on-task behaviour and improve student attitudes.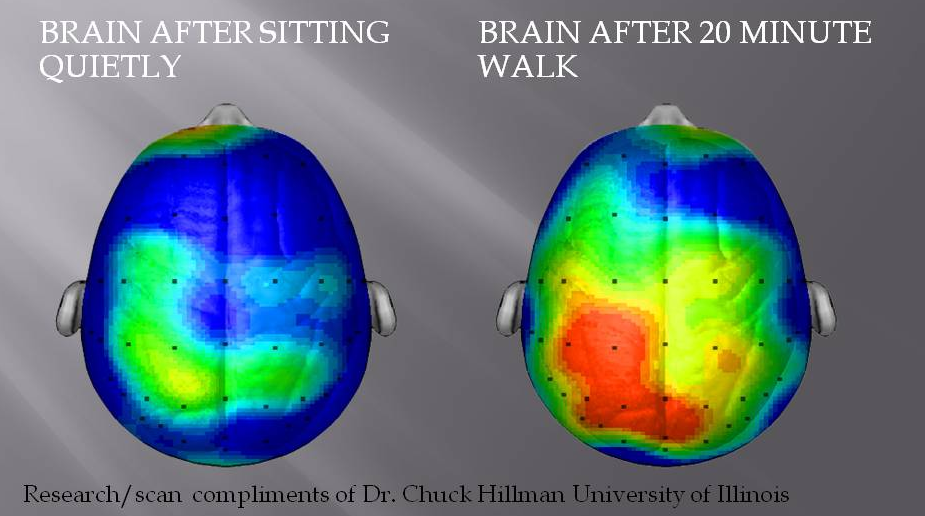 This image shows how a simple 20 minute walk activates and stimulates the brain. Teachers may not have 20 minutes to devote to a brain break, but a shorter break is still benefical. Brain breaks increase oxygen and energy flow to the brain, which helps reduce young people's stress levels and helps them to re-focus.
GoNoodle
GoNoodle is a free website that consists of a variety of break breaks which can be performed easily in the classroom.
Supermovers Brain Boosters
Super Movers aims to help teachers get their pupils moving throughout the day with lots of free, easy-to-use video resources and great football-inspired incentives like a visit from the Premier League trophy.
Yoga Brain Breaks
Use this brain break in the classroom and learn some yoga!
Cosmic Kids Yoga- Harry Potter and The Philosopher's Stone
On the spot Bobsleigh
Bobsleigh: Stand behind your chair and run on the spot, using a video like this for timing. When the driver jumps in their sled, sit down in your chair. Lean left when the driver steers left, lean right to go right. Lean forward to go faster and lean back at the end to slow down. This can be done at the pupils' desks, or, for a competition, lined up in teams of four. The best synchronised team wins.