Make a swap when you next shop!
04-01-2019
Change4life 2019 – Make a swap when you next shop!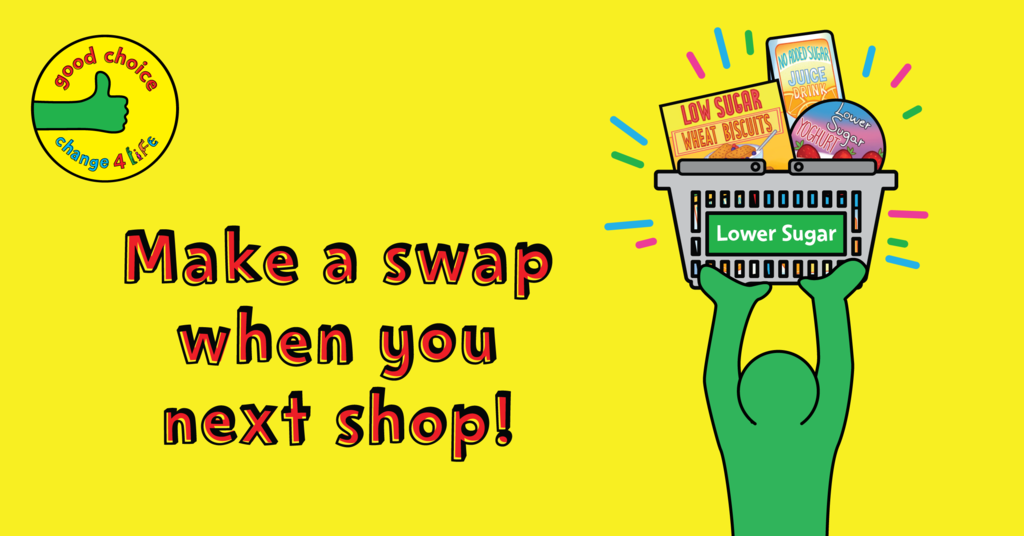 The Health and Wellbeing Service & Public Health Team, as part of Leeds City Council are excited to be supporting this year's Public Health England Change for life campaign.
Children in England are eating an extra 2,800 sugar cubes a year, which is more than double the recommended guidelines. That's 8 cubes too many each day!
How your school can get involved.
Sign up as a supporter at Public Health England so you can download posters and resources for your schools at https://campaignresources.phe.gov.uk/resources/campaigns/84-2019-change4life-nutrition-campaign/resources
Watch the video at https://www.nhs.uk/change4life
Create a display at your school
Deliver an assembly
Encourage all your parents/carers to sign up at https://www.nhs.uk/change4life e.g. in your school newsletters!
Watch out for the all the exciting resources that will be delivered directly to your school mid-January. There will be a pack for every pupil!
If your school is an academy the resources will not be delivered through the national programme. You can still pick up a resource pack for every pupil by contacting the Public Health Resource Centre on
COMPETITION TIME!
We have lots of fantastic prizes we would love to give to your school including £100 Love2shop vouchers, Leeds Rhino assembly, a healthy eating workshop, a fine dining experience for a group of your pupils, a free copy of the Leeds packed lunch toolkit and many more to be revealed!
How to win
There are two ways you can win a prize.
1. Just take part in the campaign and send us your evidence!
This could simply be an email to describe what your school did to take part or some examples of creative and exciting swaps.
Send in photos of what you did.
The more detail and exciting things you tell us, the more likely you are to win!
2. Deliver the NEW Maths, English and D&T lessons to your pupils
You can download the FREE lesson plans for KS1 and KS2 at https://campaignresources.phe.gov.uk/schools
Tell us what you did and send us the evidence e.g. "We delivered the maths lesson to 60 pupils on Tuesday 20th January".
It's as simple as that!
Get involved. Take part. Make a swap. Win prizes.
Send all evidence, emails and photos to Siobhan.o'mahony@leeds.gov.uk
View All